Institute for Community Leadership and Fieldwork
Through various institutional and organizational contexts ICLF works with educators, fellows, interns, academics, organizers, community activists, students, and program administrators to engage with community work and research in holistic, respectful, and meaningful ways. PARCEO's Institute for Community Leadership and Fieldwork (ICLF) offers both a conceptual framework and a methodology for those interested in strengthening their social justice work and sustaining equitable partnerships with community groups.
ICLF is grounded in PARCEO's ongoing community-based collaborations and a Participatory Action Research (PAR) framework. This approach provides analysis and tools to address internal processes, identify social and political inequity, establish meaningful partnerships, and bolster outreach and advocacy efforts.
Increasingly students, fellows, and professionals interact with a diverse range of communities through service learning programs, study abroad programs, volunteer programs and fellowships, both internationally and domestically. ICLF offers an ethical foundation for work in these different contexts.
ICLF trainings can be combined or modified to best fit the needs of participants and programs and can range from two hours to several sessions scheduled over a chosen period of time. ICLF Modules include:
ICLF Core

Overview of PAR
Facilitation
Positionality
ICLF Modules

Research Methods

Culture & Identities

Community Engagement

Strategic Planning

Communication & Media

Curriculum Development
Through ICLF's dynamic trainings, participants develop concrete skills and tools to engage with and support sustainable long-term movements. Some of the outcomes include::
Facilitation to guide workshops and promote an inclusive space for community participation and development
Ideas for projects that foster community building
Research skills that are qualitative and quantitative and help to equalize experiential and historical knowledge
How to enter and support a community in ways that facilitate intentional and sustained relationships
Frameworks for acknowledging diverse backgrounds and working collaboratively across difference
Understanding and identification of systemic inequalities within the community
Strategies for organizing and building effective processes to address and support community organizations and community- identified issues
Tools for shared needs assessment, visioning, goal-setting, and evaluation processes for funding and investment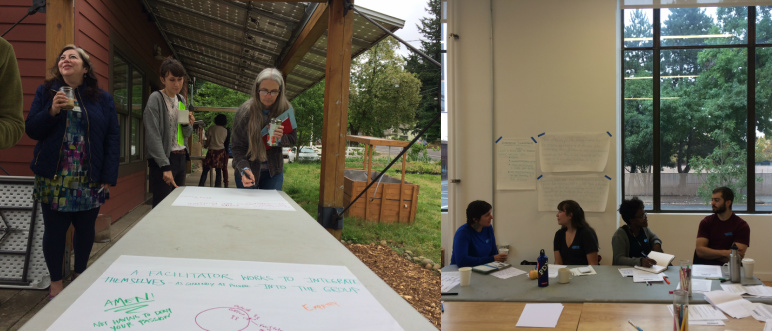 Some examples of ICLF's recent and upcoming work include:
Community research and organizing workshops with #BarrioEd project, Swarthmore, Haverford, Bryn Mawr colleges, and Esperanza and South Philadelphia High Schools
PAR-based research methods module for "Politics, Policy and Education" course, Swarthmore College
Positionality and community engagement workshop in "Practice of Transnational Feminism" graduate seminar, Syracuse University
PAR-based training "Building University/Community Collaborations and Partnerships" with Democratizing Knowledge Summer Institute "Just Academic Spaces: Creating New Publics through Radical Literacies," Syracuse University
Positionality and Equity Training with Partners for Hunger Free Oregon
Semester-long PAR class, NYU and Bank Street College
Curriculum Development with Facing the Nakba
Workshop and NYC programming for Middle East and North Africa Leaders for Democracy Fellowship program
Mexico City and Oaxaca Global Studios study abroad and college workshop series on positionality, social practice and research, Pacific Northwest College of Art
For more info contact us at info@parceo.org