Community Symposium

On Saturday, March 1, a wonderful range of community-centered groups came together for a symposium hosted by PARCEO. The day grew out of months of planning that reflected the work and needs of the groups that have been partnering or collaborating with PARCEO over the past year. It offered an exciting opportunity to share work, meet one another, explore challenges, and envision together.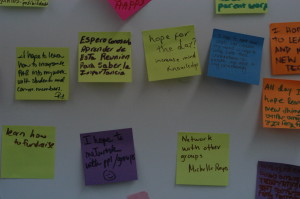 For a full list of participating groups click HERE.
The day opened with a welcome from the PARCEO team and discussion facilitated by PARCEO community advisor, Ujju Aggarwal, about what it means to have our organizing rooted in communities that are most impacted by systemic injustice, and the power of having those voices visible and at the center of our work. We then broke into roundtable discussions that took place throughout the day hosted by PARCEO and participating groups.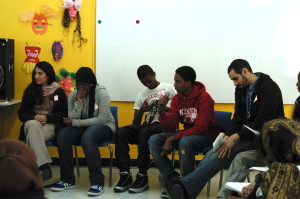 The informative and engaging sessions provided space for participants to come together and share their experience and knowledge, and work together to uncover new insights. Below is a list of topics explored. For a complete description of all the roundtables, click HERE.
Sapna NYC: Local Leaders and Empowerment: Sapna NYC's Community Health Worker (CHW) Program
EL Museo and PS 72: Instintos Creativos/Creative Instincts
PARCEO: Creative Approaches to our Organizing Challenges
NYCORE's Educators of Color and Parent Leadership Project: Exploring parent-teacher partnerships: a discussion exploring our challenges and what we hope and envision
Muslim Consultative Network: The Empowered Community
PARCEO: Fundraising is Organizing (or at least it should be): Grassroots Fundraising Strategies for Justice Organizations
Justice by the Pen: Youth Organizing: The Balance Between Political Education and Action
La Unión: Parents and Teachers: Collaborations to Advance Educational Justice
Throughout the day, PARCEO facilitators encouraged everyone to share with one another while enjoying delicious breakfast and lunch that came from restaurants in the neighborhood and snacks provided by the Asha Cooperative.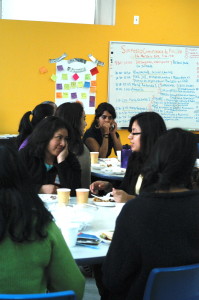 The sessions were made accessible in Bengali, Spanish and English with amazing interpretation provided by the Caracol Collective, Sapna member Laila Akhter and PARCEO's Emilia Pfannl.
The children also seemed thrilled to spend the day with the incredible childcare collective, Regeneracion.
We couldn't have asked for a better "home"—not only was El Museo del Barrio a perfect space for the day—warm and inviting with beautiful art all around—but the staff couldn't have been more embracing and supportive. What a wonderful community!
The day was inspiring for all, and the notes we have been receiving emphasize how meaningful it was to be among so many deeply committed individuals and groups that may not have a lot of financial resources but have so much passion, dedication, humanity, and motivation, working tirelessly for justice and dignity.
Please see some of the photos below that give a sense of the day.
We look forward to our continued work together and will keep you posted about next steps!