PARCEO Team
Chloe Villalobos currently finds home in Rio de Janeiro, Brazil, where she works alongside different collectives to help organize platforms for transnational solidarity among artists and activists. She also recently helped coordinate a network of favela-based socio-environmental justice projects and engaged in PAR to help strengthen community-based solutions. Chloe believes in combining transnational perspectives with local alternatives to oppressive structures and social norms. Her dream is to co-run a community library/café that brings together people of all ages and backgrounds to think, talk and act on accountability, sustainability and healing justice.
Robert Watson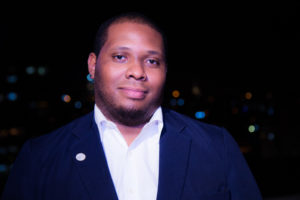 Robert Watson Jr. is a strategy and impact consultant at PARCEO currently living in Cambridge, Massachusetts. He has experience teaching, mentoring, and implementing community-based leadership programs in Boston, New York, Argentina, Brazil and Paraguay in areas that include youth development, civic engagement, poverty eradication, economic empowerment, college and career readiness along with sports and arts education. He is a former senior advisor in social innovation to the National Government of Paraguay and has co-founded four nonprofits working on issues related to civic participation and social justice in Paraguay. Rob is a former Peace Corps volunteer, co-founder of Paraguay's first ever national youth service program and Teach for Paraguay, an organization that forms part of the global Teach For All Network in 42 countries. He holds a BA from Harvard University, a graduate degree in Poverty, Development, and Territory from the Universidad Alberto Hurtado of Chile and is currently enrolled in the Education Policy and Management Master's Program at the Harvard Graduate School of Education
Krysta Williams

Krysta Williams is a founding member of PARCEO and currently lives in Oakland, CA. Krysta has worked nationally and internationally as a community educator and public school teacher. She is a founding member and former director of the San Jose, Costa Rica based Centro de Tutoría, an educational resource center that addresses community-identified needs, including literacy training, tutoring, the first lending library, youth mentorships, and sports programs. Krysta has supported organizations as they shift their culture, policies, and trainings in service of justice. Krysta continues to serve as a community organizer and advocate for social justice, especially food justice, through working with organizations to develop inclusive, participatory structures for community leadership and supporting equitable access to nourishing and sustainable food through public school meals. Krysta holds a Masters in Educational Leadership, Politics, and Advocacy at NYU/Steinhardt.
Community advisors
Ujju Aggarwal, an educator and organizer, has participated in efforts for immigrants' rights, the intersections of arts and social justice, public education, and violence against women of color. She has been an organizer with the Parent Leadership Project, and Center for Immigrant Families, has taught at the Educational Opportunities Center, at Hunter College and elsewhere. She completed her doctorate in anthropology at the CUNY Graduate Center. Her doctoral research explored what contestations over public schools can illuminate about race, class, and gender, social reproduction, and urban space. Currently, she is an assistant professor of anthropology and experiential learning at the New School for Social Research.
Leticia Alanis hails from Monterrey in Mexico, where she worked as a youth educator and directed educational programs for 18 years. Active in the immigrant rights movement since arriving from Mexico in 1996, she co-founded and directed La Union, a member-led organization in Sunset Park, Brooklyn that worked to advance social, cultural and economic justice for transnational families living in Brooklyn and for their communities of origin. Pastor Leticia is the mission developer for All Saints Lutheran Church & Iglesia Luterana de Todos los Santos.
Gary L. Anderson is a professor in the Educational Leadership program in the Steinhardt School of Culture, Education, and Human Development at New York University. A former high school teacher and principal, he has published on topics such as participatory action research, critical ethnography, school micro-politics, and school reform and leadership. With Kathryn Herr, he has co-authored two books on action research; The Action Research Dissertation: A Guide for Students and Faculty. (2005, Sage Pub.) and Studying your own school: An educator's guide to practitioner action research. (2nd ed. 2007, Corwin Press). His most recent book is Advocacy Leadership: Toward a Post-Reform Agenda (2009, Routledge).
Marilyn Barnwell has been a part of the Early Childhood field for almost 50 years – serving as a teacher, teacher-director, and adjunct instructor. She has been an education director at Bloomingdale Family Program–Head Start for over 31 years working closely with teachers, children, and their families. She has also been part of the Parent Leadership Project, a collaboration between Bloomingdale and the Center for Immigrant Families.
Edwin Mayorga has been a long time organizer for educational justice including with the New York Collective of Radical Educators (NYCoRE). He is also a participant in the National Latino Education Research & Policy Project (NLERAP) and has been part-time faculty at Hunter College and New York University. He was a NYC elementary school teacher, and is completing his doctoral work in Urban Education at the Graduate Center of the City University of New York. His dissertation examines the racialization of Latinos through contestation over education reform in NYC in the current period of racial capitalism. He is co-founder and co-researcher of the Education in our Barrios Project. He is an assistant professor in the Department of Educational Studies and the Program in Latin American and Latino Studies at Swarthmore College.
Tina Pack, LMSW, has been an active public school parent for over 15 years. She has participated as a parent leader within schools and in numerous campaigns for educational justice. In addition to her commitment to her own children, she has advocated for children, youth, and families within public education systems serving grades pre-k through college.
Save